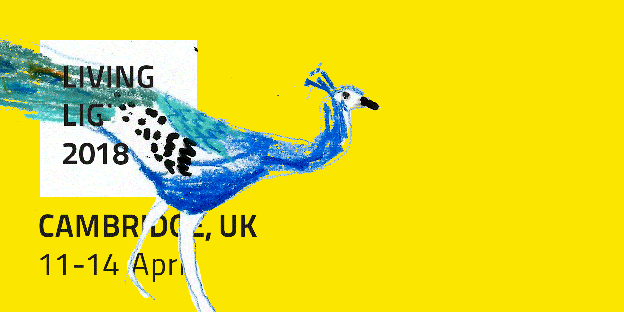 (logo design: Nicolò Mingolini)
Important note
All acceptance letters should have been sent out via e-mail now, but we have experienced a few of them being caught in spam filters. In case you have submitted and abstract and not heard from us, please get in touch with us via living.light.abstracts@ch.cam.ac.uk. 
We are pleased to invite you to Living Light 2018!
Living light is a biennial interdisciplinary conference focusing on light-matter interaction in living organisms. Following 2016's success at the Scripps Research Institute, the next conference will take place in Cambridge, United Kingdom from the 11th to 14th of April 2018. We invite everyone with an interest in light in living organisms to participate. The conference topics covers (without being limited to)
Biological photonic structures;
Optics of natural materials;
Development and evolution of structural colouration in nature;
Bio-photoluminescence;
Ecology and biochemistry of structural colour in nature.
Deadline for abstract submissions for talks or posters is 15 January 2018 29 January 2018 (now closed).
Stay in touch
To receive updates about the conference through our mailing list, please register below:
You can also follow us on twitter @LivingLightConf.
Travel grants
The journal Biomimetics offer travel awards for PhD's and postdocs to attend relevant conferences (deadline 31 Jan 2018). Follow this link to find out more. If you are aware of any other travel grants relevant for this conference, please contact the organising committee.
Scientific committee 2018
The scientific committee for Living Light 2018 consists of
Local organising committee 2018
History of Living Light
This is how Living Light 2016 looked: